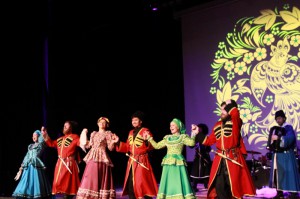 Bright and spectacular concert programs for any platforms and scenes are submitted by the Cossack chorus "Russian Volya". Solo performances of folklore ensemble "Russian Volya" it is incendiary songs, traditional and production dances, tricks with the Cossack checkers and lashes, elements of martial arts and interactive numbers with the audience. The program contains alternation marching, fighting, wedding, the gulebnykh, the lyrical and comic songs fully representing the Cossack tradition. Besides musical material of performance perfectly show dynamic Cossack dances. Choreography is various both production and traditional performances. Dances are an integral part of the majority of frequent songs and are naturally combined with choral singing. In full strength the collective uses a set of the musical instruments making a powerful basis for choral execution. It is a bayan, percussions, a bass, a balalaika, a guitar, a pipe, a trombone, a zhaleyka and a pipe. The small orchestra allows to accompany sensitively choral works with different character and dynamics, doing sounding full and perfect. The magnificent suits created on traditional curves perfectly supplement an image of collective and reflect spirit and color of the Cossack tradition! You can see a full concert photo album having passed on to the link…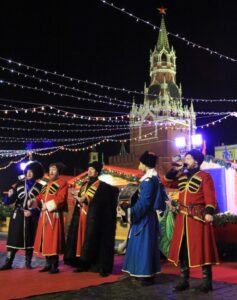 Maslenitsa, New year, on May 9 together with the Cossack ensemble "Russian Volya"!
The Cossack ensemble "Russian Volya" submits special concert programs for thematic holidays, such as: Maslenitsa, Christmas, New year, on May 9, on February 23, on March 8, etc. Performances can is carried out on the street even to winter time. Traditional street festive programs include various activities with the audience! It and streamlets, round dances, dances, national competitions, cockfights, Pancake week entertainments and other games. Interactive numbers are especially actual in a winter season and allow the audience to be warmed in a hard frost!
Duration of the program and structure of collective can vary depending on problems of action from 7 to 15 people. In detail it is possible to examine options of structure having passed on this page . The collective participates in combined concerts and can show small performance from 3-4 numbers which will most brightly present the person and an image of ensemble. You can discuss all questions connected with the organization of performances by phone 8-926-573-67-31 Veniamin Novotochinov.
& nbsp;